Around Us
Around Us
Queen's Road is the core of the Downtown Heritage District. Balmoral Inn is located on Queen's Road and is surrounded with prestigious, wonderfully restored, elegant historic properties built at the turn of the last century. Cathedrals, live theater, and fine restaurants are all around. Queens Road is a continuation of New-Gower Street, where Hotel Delta / Convention Center (8 minutes easy walk) is located, adjacent to Mile One Stadium. Sheraton Hotel is also 5 to 8 minutes easy walk. The vibrant nightlife of the world's famous George Street is within a close walk from the Balmoral Inn. Just about every St. John's attraction is within a walking radius of the Inn. The prosperity of a bygone era is captured by the remarkable character of Downtown, the City's oldest districts, and its newest exclusive residential community.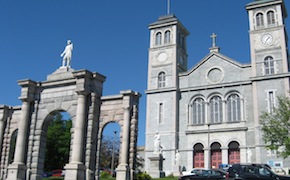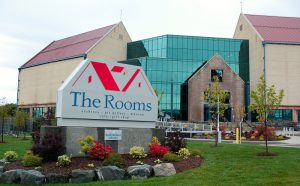 The Rooms – Provincial Archives
For those who are interested in genealogy, the Provincial Archives are an extremely valuable source of information. There are several ways of finding out how to access the information you are looking for at "The Rooms" just a minute walk from Balmoral House. It is the place where it all comes together, our history, heritage and artistic expression. The Rooms unites the Provincial Museum, the Provincial Art Gallery and the Provincial Archives under one roof. A place for people, "The Rooms" is a portal to the many stories our province of Newfoundland has to tell.
PUBLIC TRANSPORT: "Metrobus" serves most of the city. Route information is available at the visitor information center or by calling (Ph: 709-722-9400). At press time, fares are $2.50 for a single trip.
TAXI: Taxis are plentiful around St. John's, and charge an initial fee of $3.75 plus $2 each additional mile. One of the larger and more dependable outfits in the city is "Jiffy-Cabs" Ph: 722-2222. You can tour the city by taxi for about $30 per hour.
CAR RENTALS:
AVIS – Airport Location: Ph. (709) 722-6620, Downtown: Ph. (709) 753-6815
ENTERPRISE – Ph. (709) 739-6570 & Ph. (709) 722-9480
BUDGET – Ph. (709) 786-1989
VISITOR INFORMATION – The St. John's City Tourist Information office is open year-round and it's located in Downtown on Water Street.
Phone: 709-576-8106